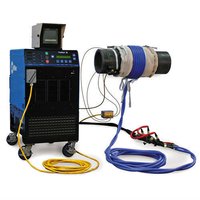 Induction Heating System
Product Description
· · · · · Shrink Fit
Applications that would typically require hours to heat canbe done in minutes utilizing induction heating. Discover the dramatic benefitsof using induction compared to current processes by using the calculators fortime-to-temperature for typical heating applications of pipe and plate.
In addition to the simplicity and efficiency of ProHeat, thisheating system solves many key issues in today's environment
- Induction heating does not require the significant expenseof fuel gases.
- Induction heating produces fewer fumes than flame heating.
- Induction heating produces less particulate from overheatedinsulation caused by high temperature electrical wires and ceramic pads
- Induction heating does not produce the exposure to burnsassociated with open flames and electrical resistance wires (only the work partbecomes hot).
These benefits of induction heating and ProHeat combine toprovide a more productive work environment and delivers significant costsavings.
Specifications:
Application

Industrial Ovens

Input Power

3- Phase, 50/60 Hz, 400-460 VAC, 460-575 VAC, 60 Hz

Rated Output

35 kW at 100% Duty Cycle, 5-30 KHz

Weight Net

227 lb. (103 kg) Ship 265 lb. (120 kg)

Process

Induction Heating

Temperature Rating

Storage- 40 deg C – 60 deg C
Operation- 30 deg C – 50 deg C

Input Amperes at Rated Output

400 V 60 Amps 460 V 50 Amps 575 V 40 Amps
Contact Us
Plot No. A-253, Road No. 30B, Wagle Industrial Estate, Near Police Station, Thane, Maharashtra, 400604, India