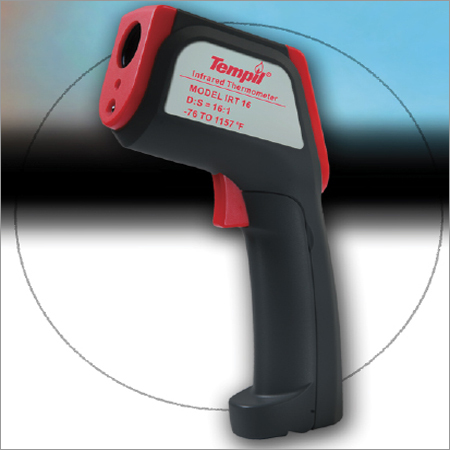 Product Description
We are supplying the vast gamut of IRT-16 Infrared Thermometer to satisfy our clients' diverse requirements. These thermometers are manufactured by following non-contact infrared technology which made them ideal measurement device. Our entire range is procured from the well recognized vendors of the market who take care about their quality and durability factors. Delivered collection is manufactured to cater to the varied industrial needs for measuring the temperature through laser targeting ranging up to 16:1 distance to spot ratio. The ideal range of the offered IRT-16 Infrared Thermometer collection for measuring temperature is -60C to +625C.
Features:
Easily adjustable emissivity

Compact design

Technologically advanced

Further Details


IRT-16 is the industry's most advanced, non-contact infrared technology-based surface temperature measurement device.


Designed to meet the needs of a wide range of applications
It measures temperatures from -60C to +625C
Easily adjustable emissivity, combined with laser targeting and a 16:1 distance to spot ratio
Allows for greater precision over a wide range of applications.
Contact Us
Plot No. A-253, Road No. 30B, Wagle Industrial Estate, Near Police Station, Thane, Maharashtra, 400604, India