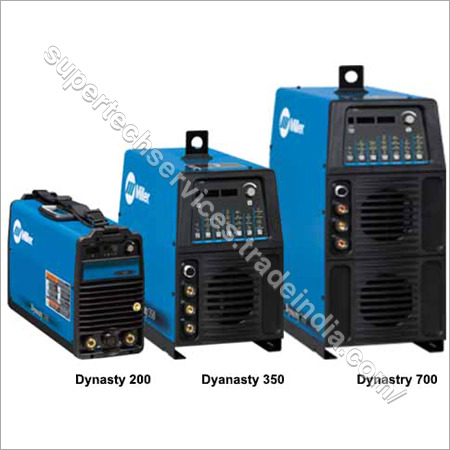 Product Description
We have established ourselves as a coveted organization by supplying an exclusive range of Dynasty Series. Available in three different models, these are applicable in the welding application. these machines are manufactured by implementing advanced inverter technology. Our authentic vendors manufacture these Dynasty Series using optimum quality material as per industry norms. Operate on both AC and DC power supply, these series are highly appreciated by our valuable clients. We offer this range at a reasonable price.
Features:
Less power consumption
Easy to operate
Light weight
Compact design

Dynasty Series Features:
AC/ DC TIG & Stick - For Aluminium, Carbon, Steel, Stainless Steel and other exotic alloys.

Autoline allows for any input voltage hook-up with no manual linking, providing convenience in any job setting.
Blue Lightning high-frequency arc starter for more consistent non-contact starts and greater reliability compared to traditional HF arc starters.
Lift-Arc start provides AC or DC arc starting without the use of high frequency.
Hot Start adaptive control provides positive arc starts without sticking.
Fan-On-Demand cooling system only operates when needed to reduce noise, energy use and contaminants pulled through the machine.

Auto-postflow calculates the length of postflow time based on the amperage setting. Eliminates need to independently set postflow time.
AC balance (30 - 99%) controls amount of oxide cleaning enabling high-quality TIG welds on aluminum (280 base model has 60 - 80% range).
AC waveforms include advanced squarewave, soft squarewave, sine wave and triangular wave (280 base model has soft squarewave only).
AC frequency controls the width and the force of the arc in TIG welding (280 base model has limited range) and adds stability.

Dynasty 200 Additional Features:
Three models available. SD model provides basic TIG and Stick functions. DX model adds pulser and sequencer functions.
Portable with adjustable shoulder strap. You can take it anywhere
Dynasty 350/ 700 Additional Features:
AC amperage allows independent amperages to precisely control heat input.
High-speed DC TIG pulse controls capable of 5000 pulses per second.
Program memory features nine program memories that maintain/save your parameters.
120 V auxiliary power dual receptacle to power cooling system or small tools.
Feature

Dynasty 200

Dynasty 350

Dynasty 700

Welding Range

DC: 1-200A


AC: 5-200A

3-350A

5-700A

Duty Cycle

60% @ 150A/16V; 100% @ 100A/14V

60% @ 350A/32V; 100% @ 250A/30V

60% @ 600A/44V; 100% @ 500A/40V

Pulse TIG

DX Model Only

Yes

Yes

AC Balance

Yes

Yes

Yes

AC Frequency

Yes

Yes

Yes

AC Waveforms

Yes

Yes

Yes

Blue Lighting Arc Starter

Yes

Yes

Yes

Pre-Postflow Control

Yes

Yes

Yes

Digital Meters

DX model Only

Yes

Yes

Weld Sequence Control

DX model Only

Yes

Yes

Program Memory




Yes

Yes

Independent AC Amps




Yes

Yes
Contact Us
Plot No. A-253, Road No. 30B, Wagle Industrial Estate, Near Police Station, Thane, Maharashtra, 400604, India