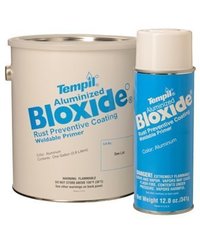 Weldable Primer
Product Description
Weldable Primer is a versatile, rust-preventive,weldable primer with a unique formula that can be applied to a wide range ofmetals, preventing formation of rust and corrosion during extended periods ofstorage. Bloxide eliminates the need to clean metal surfaces before welding dueto its enhanced corrosion preventative features, thus saving time and laborcosts during fabrication. Bloxide is a complete weldable primer, also improvingthe weld quality after application, resulting in X-Ray quality welds.
· · · · · Can be sprayed, brushedor parts can be dipped into it
Applications:
Marine and Offshore Metal Fabrication, Almost All Steels, Primer for Paints and Coatings.
Specifications:
| | |
| --- | --- |
| Brand | Tempil |
| Usage/ Application | Industrial |
| Finish | Aluminium Finish |
| Form | Liquid |
| Applications | Welding, Marine and Offshore Metal Fabrication, Almost All Steels, Primer for Paints and Coatings |
| Colour | Silver |
| Packaging Size | 1 Gallon |
| Application Method | Brush |
| Temperature Resistant | 427 deg C |
Contact Us
Plot No. A-253, Road No. 30B, Wagle Industrial Estate, Near Police Station, Thane, Maharashtra, 400604, India